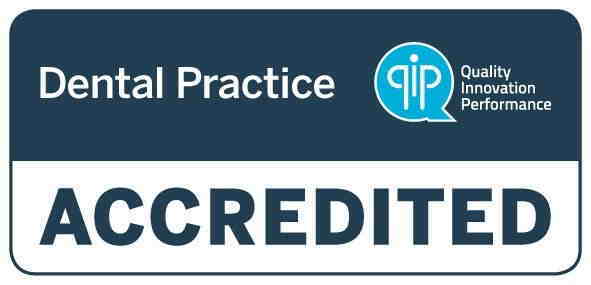 At Dental Care on Pulteney, we are dedicated to ensuring the safety of our patients as well as helping them achieve their best possible oral health. As part of a sign of our commitment, we have achieved full accreditation with Quality Innovation Practice (QIP), a non-profit organization that helps dentists achieve not just accreditation, but also a culture of progressive approaches to patient care.
What is QIP Accreditation?
The accreditation of private dental practices is based on the integration of a set of National Safety and Quality Health Service (NSQHS) Standards into everyday practice culture and patient safety. These standards harmonise regulatory requirements passed down by both Federal and State governments, with highlights being the demonstration of clear and evidence based patient benefits when visiting an accredited practice, as well as the sustainable cost structures of a practice.
What Accreditation Means for You.
Accreditation is a voluntary step that dental practices can take. It is not something that every dentist has to have to practice in South Australia. Instead, it is something that can help you decide which dentist to choose.
An accredited dentist means the dentist:
Has implemented a culture of quality care and patient safety

Has met the requirements based on a defined criteria and set of standards that all practices can be judged equally against

Works to reduce clinical and other risks by:

Addressing medication risks

Working to control infection

Adhering to procedures to ensure optimal patient outcome with evidence based practice

Engages the entire staff in safety protocols
In other words, accreditation means that your dentist's practice has been thoroughly evaluated from a quality and safety standpoint.
Accreditation is also not just a one-time application. It is something that must be maintained continuously, so when you see the QIP symbol, you know that a dentist is being constantly monitored to ensure the quality of care remains high.
What Accreditation Means for Us.
This is a significant achievement for our practice and we are very proud to make this announcement. We are committed to ongoing improvement of the policies and procedures that govern our dental practice. In this way, we can provide assurance to patients, staff, colleagues and peers that we are committed to quality, safety and excellence across all standards.